Creations les Floralies, delivers flowers
to your door step anywhere in Mauritius.
Established since 50 years, Creations les Floralies brings you a unique, experienced service in floral arrangement. For various occasions like Valentines Day, Mothers Day or any other event. We deliver the same day anywhere in Mauritius and you can now use our website to choose, order and pay instantly to get your flowers delivered.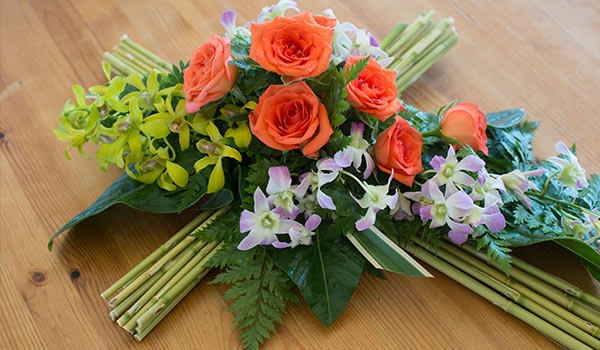 Browse by occasion to discover the perfect bouquet for that special event whether it be for a Birthday, Anniversary, or Funeral.
Browse by presentation to choose how you wish your flowers to be presented whether it be in a box, a gift wrapped bunch of floral plate.
Choose that special gift to accompany your bouquet.
Purchases Outside Mauritius
Needing to send flowers overseas ? As a member of Interflora, Creations Floralies both receives orders from outside of Mauritius and also sends orders from Mauritius to abroad through the Interflora network.
Searching for the right words to say isn't always easy, that's why with "Creations Floralies" we create the arrangements to say it for you !
Our handmade floral arrangements help you share your sentiments with meaning and warmth.
To place orders or get help choosing flowers please Call (+230 670 0768) or email us at: (info@creationslesfloralies.com).
Same day delivery Mon-Sat Mauritius Wide.
Based in Arcade Currimjee, Curepipe, Mauritius
Saleema
"Thank you for going out of your way to make us a very happy client.. very creative and attentive to client's wishes."
Vanam
"I ordered a bouquets for my Mother on Mother's Day and made a special request for early delivery. They delivered in the morning indeed, with a handwritten card, my mom loved it! I Definitely recommend Creations Floralies for any flower order, especially when ordering from abroad."
Ella
"Wow, I really loved the décor you did for my sister's wedding! The team was friendly and hardworking. I am 100% satisfied."